Understanding the benefits of surge protection devices also known as SPDs in today's world is important. As we aim to make economical choices to protect our structures from the impact of Global Warming and whatever plans to come our way this year in 2020 or 2021, we need to understand why investing in surge protection is so important. 
This year (the one that shall not be named :p) has changed the way we live our day to day life. We spend a lot more time at home and more dependent on our electronics, whether they be a Smart TV, computer, mobile phone, etc. Now imagine, you're working from home, like a lot of us are these days, you're in the middle of Zoom call, and suddenly lightning strikes, hits your electrical circuit, and all your plugged-in devices, including your computer, is done for. Not only is it stressful to be kicked out of your meeting, but now your computer is not working, and you're ultimately faced with having to pay to replace all the items that were damaged due to the overvoltage. What a headache, and a nightmare!
If only there was something that could have prevented this over surge….hmmm…
Who you gonna call?… Kingsmill Industries' very own Surge Busters!
Now, let's understand mechanically and technically how it all works, and why everyone needs to invest (and trust us, it's much cheaper than getting your electronics repaired, that is, if they can be) in domestic surge protection devices.
A lightning discharge up to 1km away can damage any electronic system that is not protected by surge protection. Thinking about our electronic systems, nowadays, they are more sophisticated and their components are much smaller than before. That being the case, they are a lot more susceptible to an overvoltage, and if they are to experience an overvoltage, hopefully not, replacing a part is quite pricey.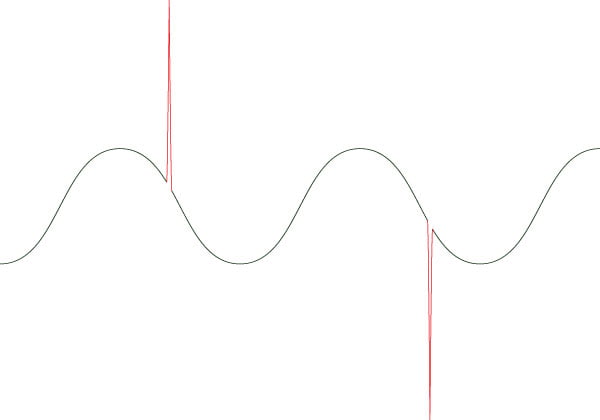 As we explained earlier, our lives revolve around our electronic systems throughout our day to day lives and experiences – not just at home, but at work, when we shop, visit the doctor's office, etc.  Is it a risk worth taking, to keep your electronics not protected?
So How Does a Surge Protection Device Work?
The European Standard EN 60664-1 states that the minimum withstand voltage (the voltage over which, damage occurs) for electronic equipment is 1,500V.
It is important therefore, to reduce the 6,000V lightning induced transient to 1500V or less, before it enters the building or electronic device.
Kingsmill Industries provides a range of Mains Surge Protection Devices:
Combined Type 1 & 2 Lightning Current and Surge Arrester
Type 2 Surge Arrester
Type 3 Surge Arrester for "fine protection" at the location of electronic equipment (if required)
We believe that quality and performance are paramount, and that is why our Type 1 & 2, Type 2, and Type 3 devices hold independent VDE certifications.
Our Combined Type 1 & 2 Lightning Current and Surge Arrester devices employ a hybrid technology combining MOV+GDT in serial connection. This technology has no follow current when the SPD is active during the actual transient overvoltage event.  The residual or let-through voltage of our Type 1 & 2, 25kA devices are as low as 700 to 800V, which is well below the "withstand voltage" threshold mentioned earlier.
Not sure which Surge Protection Device best suits your project? Check out our SPD product selector below that simplifies the whole process.
Now, that we have discussed the benefits of a surge protection device, let us dig deeper into components of one to see what makes our product so great. It's all about the details!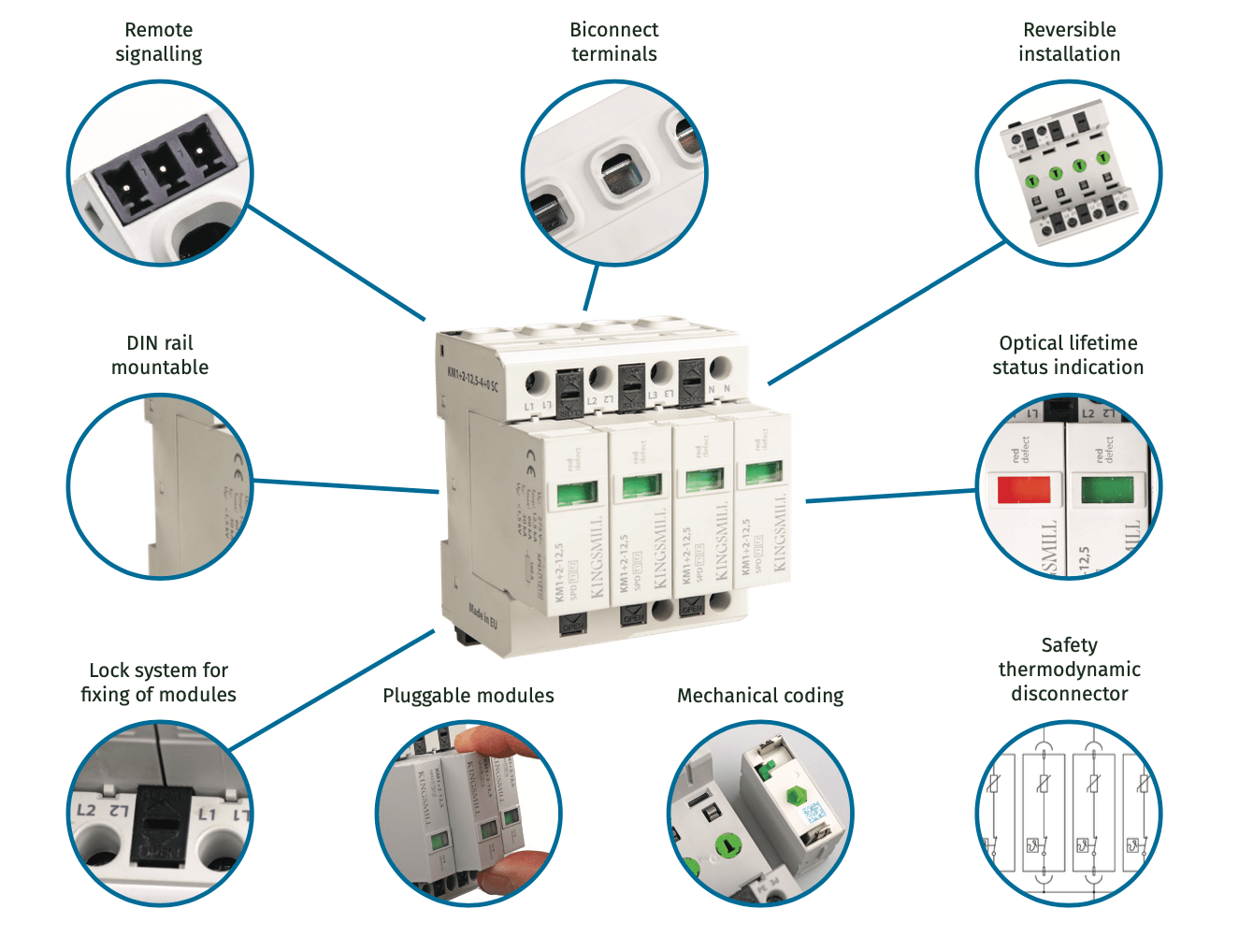 Pluggable Modules
These allow the facility maintenance engineer to carry out regular insulation tests, without the need to disconnect the monoblock base unit from the connected cables.
Reversible Installation
The modules of the Kingsmill Industries' range are reversible (turned through 180°) for easier installation and closer connection to the PE conductor.
Lockable Modules
Our monoblock base units incorporate a simple screwdriver operated, locking device to secure the SPD modules in place.
Remote Signalling
The provision of volt free contacts as a standard feature allows our units to connect to a building management system to continually and remotely monitor the condition of the SPD.
DIN Rail Mounting
The monoblock base units incorporate the facility to mount the SPD unit on to a standard 35mm DIN rail inside enclosures and electrical panels.
Mechanical Coding
At Kingsmill Industries, we take quality seriously. All of our Pluggable Modules incorporate a QR tag (a tag that is applied only to modules that have passed rigorous in-line production testing). The tag enables us to trace the individual module back to its test report.
Safety Thermodynamic Disconnector
This disconnects the device from the mains supply to prevent fire in the case of extreme overheating from sustained overvoltage.
Optical Lifetime Status Indication
Each surge protection module incorporates a green (good condition) and a red (failed condition) flag. This provides a quick and easy visual indication of the device operational status.
Bi-connect Terminals
The Kingsmill Industries' monoblock bases are fitted with Bi-connect terminals, enabling busbar connection around the fixing screw and cable entry below. Both can be used together.
Now that we covered the features of what makes our surge protection devices unstoppable, it's time for you to reach out to us at [email protected] or roam around our website, since you're already here!
Let us help get you started on protecting your electronic devices and your structures from an overvoltage.
As we just saw, the benefits of a Surge Protection Device are important in today's world, but still want to learn more about before you reach out to us? No problem! Download our catalogue to get an extensive look at all our products.
We want you to feel assured when purchasing any of our products, so if you have any more questions, we are always ready to help!
As always, stay safe!
If you have any questions regarding this piece or require further information, please do not hesitate to
contact us
through our website to submit a query.