Kingsmill Industries (UK) Ltd – FPAL Registered
Kingsmill Industries (UK) Ltd are pleased to announce that we have now become an official FPAL registered supplier to the Oil & Gas sector for the manufacture and supply of Earthing Materials & Lightning Protection Products. 
Kingsmill is registered on the FPAL database with the following product and services: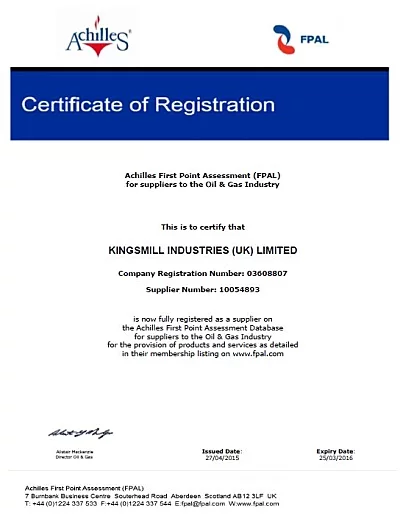 1.09.07 – Cables, Cords, Wires and Accessories
1.09.99 – Other Electrical Equipment and Materials
1.16.99 – Other Safety / Security / Firefighting Equipment and Accessories
2.03.02 – Bars
2.03.99 – Other Steel and Metal Materials
Kingsmill Industries (UK) Ltd – FPAL Database Supplier Number: 10054893
FPAL Overview
Achilles First Point Assessment Ltd (FPAL) is a community used by major buying organisations within the Oil & Gas sector. It enables the oil & gas sector to use Achilles' proven supplier pre-qualification system to identify, pre-qualify and assess suppliers for tender opportunities and minimise risk within their supply chains. Established in 1996, FPAL is a service provided by Achilles and the community is managed by a Steering Group to drive industry best practice.
"FPAL – Supplier Management Community Supporting the European Oil & Gas Industry"
If you would like more information in regards to FPAL and/or the benefits of using a FPAL supplier please visit this page 
For any further questions, please don't hesitate to reach out to us at [email protected]. Or contact us through our website to submit a query.