We're pleased to announce the first products available from a brand new range of Surge Protection Devices.
The current range comprises: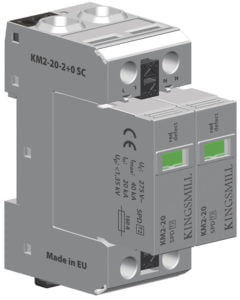 Combined Type 1 and Type 2 lightning current arrestors
Type 2 surge arrestors, and
Type 3 surge arrestors
These mains devices are fully coordinated to allow ease of installation and comply with BS:EN 62305 (lightning protection) and EN 61643-11 (surge protection devices).
All of the Kingsmill surge Protection Devices have pluggable modules and we offer remote status signalling as standard.
For any further questions, please don't hesitate to reach out to us at [email protected]. Or contact us through our website to submit a query.