Why choose a Tinned Earth Bar?
Earth Bars are manufactured as standard with plain exposed copper bar, this is fine and does not cause any problems as generally the Earth Bars are located on the inside of a building, usually inside a nice, dry, warm substation/communication room or neatly situated indoors, out of the way in a dry location. What happens when this is simply not possible or practical? When the Earth bar has to be located at an external site, an area that is more aggressive or a location that has higher moisture or humidity? 
The answer is to use a Tinned Earth Bar!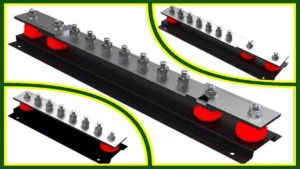 Understanding Tin/Tinning
Tin, a soft white metal can easily be polished, scratch brushed or flow melted to give a bright finish. It is non-toxic and is not greatly affected by the organic acids. Sulphur compounds do not readily tarnish tin. It is not impaired by either air or water, but reacts with hydrochloric acid to form stannous chloride. Tin is one of the less susceptible metals to corrosion attack.
Benefits of a Tinned Earth Bar
Tinning a copper bar protects against atmospheric corrosion and hence provides longer life when exposed to corrosive atmospheres.
Tinning protects the copper and protects the Earth Bars from the formation of copper oxide, tin effectively prevents oxidation!
Tinning an Earth Bar is an excellent solution practically speaking, because it protects the copper, increases longevity and has reasonably low resistance.
Tinned Earth Bars could be used in external applications or where atmospheric conditions are more severe and aggressive than normal i.e. high moisture content areas, high humidity etc.
A tinned Earth Bar resists water corrosion and provides enhanced conductivity, due to its improved water resistance, tinned copper Earth Bars are often used in various marine projects.
Key Features of a Tinned Earth Bar
Manufactured from 50x6mm Tinned Hard Drawn Copper Bar
M10x35 A2 Stainless Steel Connection Bolts
Zero Halogen, Glass Reinforced Polyester Insulators c/w M10 Brass Inserts
Black Powder Coated Steel Base (Hot Dipped Galvanised Steel Base could be supplied if requested)
Pre-drilled base holes for ease of installation
Highest quality, UK sourced raw material
For any further questions, please don't hesitate to reach out to us at [email protected]. Or contact us through our website to submit a query.